Apollo Theatre ceiling collapse: No prosecution to be brought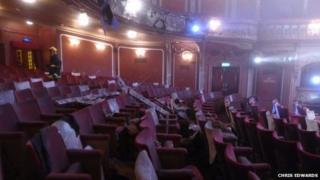 A West End theatre will not be prosecuted following the collapse of part of its ceiling which injured 88 people, Westminster City Council has decided.
The ceiling fell in at the 113-year-old Apollo Theatre during a performance last December.
An investigation found hessian wadding mixed into plaster of Paris in the ceiling had become progressively weak.
New guidance governing ceiling checks has been recommended.
'Need to prove safe'
Westminster City Council requires venue ceilings to be checked every three years.
When the incident happened at an evening performance of The Curious Incident of The Dog In The Night-Time, attended by about 730 people, the Apollo's checks were up to date.
The council has concluded that neither the theatre company nor the ceiling inspection firm should be prosecuted.
Since the mid-1800s, West End theatre ceilings have been suspended from a timber support by ties, or wadding, made from a combination of plaster and hessian.
The wadding at the Apollo is thought to have be in place since the theatre's construction in 1901.
Westminster health and safety officers found the collapse happened because of the age of the structure.
'Terrible accident'
Councillor Nickie Aiken said the authority wanted the Health and Safety Executive and the Association of British Theatre Technicians to establish "more rigorous guidance" governing ceiling checks in old theatres and cinemas.
She said: "Simply put, the onus needs to change. Experts and owners need to prove that structures are safe, rather than not prove that they are unsafe."
Nica Burns of Nimax, which runs the theatre, said: "I welcome the conclusion of the Westminster investigation, which confirms it was a terrible accident.
"Not a day has passed where I do not think about every single audience member, the cast and staff present on that December evening."
Meanwhile, 132 people have made compensation claims for either personal possessions being lost or damaged, or for personal injury.