Norwich crash driver's judgement 'impaired'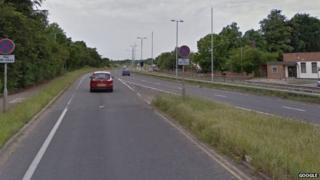 A businessman who blacked out and caused a crash that left a student with brain damage should not have been driving, a High Court judge has ruled.
Peter Haynes, 56, left a conference in Norwich and, driving at about 70mph, caused a pile-up on a slip road to the A11 at Cringleford in March 2012.
His Toyota Land cruiser hit a VW Polo driven by Simon Green, 22, shunting it under a Land Rover in front.
Mr Justice Supperstone said he was in breach of his duty to other road users.
The amount of damages to be awarded to high-achieving A Level student Mr Green, of Swaffham, will be assessed later.
Mr Haynes, of Metfield, Suffolk, claimed he was not to blame, maintaining the collision occurred after he had a blackout triggered by abdominal pain.
'Driving ability impaired'
Lawyers said he was negligent in choosing to drive and and in the manner of his driving.
Mr Haynes, a self-employed health, safety and environment and operations management consultant, had felt very unwell with an upset stomach at the conference.
"He should have appreciated the risk of his condition getting worse and that, if it did, his judgement and ability to drive was likely to be impaired," Mr Justice Supperstone said.
"On a balance of probabilities, I find that the defendant should not have driven on leaving the conference centre after he felt so unwell, and that he was in breach of his duty to other road users in so doing."
The judge also found Mr Haynes was in all likelihood driving his car at a speed close to 70mph.