Rare turtles found on Formby and Walney Island beaches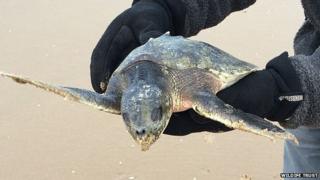 Two very rare turtles have washed ashore in the North West, 5,000 miles (8,000 km) from their native waters.
The juvenile Kemp's ridley turtles were found on beaches near Formby on Merseyside and Cumbria's Walney Island.
The critically-endangered turtles usually inhabit the Gulf of Mexico, but may have been "cold-stunned" by a drop in ocean temperatures off the US.
Marine mammal expert Rod Penrose said there was a "very good chance" more could appear.
"The sea temperatures on the east coast of the USA recently dropped causing large numbers of Kemp's ridleys to become cold-stunned," he said.
"This condition leaves the turtles in a lethargic condition unable to feed or swim against strong currents.
"The two turtles currently in rehab are very likely as a result of this event."
Mr Penrose added that, if the animals survive, they would be flown back to America "at a later date".
A spokesman for the Wildlife Trust said about 30 Kemp's ridley turtles had been stranded on British and Irish beaches in the past, though the majority were recorded in the South West and Wales.
The Merseyside turtle is being cared for by the RSPCA, while the one washed up in Cumbria has been taken to the Lake District Coast Aquarium in Maryport.
---
Kemp's ridley turtles
Kemp's ridley turtles grow to around 27ins (70cm) long, and up to 88lbs (40kg) in weight
Their shell is olive grey, while their underside is a yellowish white colour
They are usually found near Rancho Nuevo in Tamaulipas, Mexico, where they breed
The species is critically endangered and has a female breeding population of about 1,000 turtles
Source: World Wide Fund for Nature (WWF)