New mental health suite at Hellesdon Hospital will cut use of police cells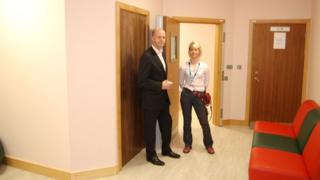 A £450,000 investment in a mental health assessment suite in Norfolk will help prevent the need to use police cells for patients, an NHS trust says.
Norfolk and Suffolk NHS Foundation Trust has reopened the Section 136 suite at Hellesdon Hospital.
The Norfolk Police and Crime Commissioner's (PCC) office has raised concerns over the waste of police time through the use of cells.
The money has been provided by the trust and local clinical commissioners.
The refurbishment of the suite cost about £100,000 and £350,000 is being provided to fund 11 mental health specialists to staff the Hellesdon Hospital suite and a suite in King's Lynn.
The suites, which include a bedroom and kitchen, are set aside for patients detained by police under Section 136 of the Mental Health Act for their own safety and well-being.
In 2013 Norfolk PCC Stephen Bett voiced concerns about the use of police cells for people with mental health issues.
Trust chief executive Michael Scott told the BBC: "This refurbished suite will provide a better environment and we will get it fully staffed. When people end up in cells it is the lack of staffing that is the problem.
"This is all about keeping people out of cells. Police will be the first to say they want people with mental health problems to be treated by those skilled in mental health."
Dr Duncan Edwards, of the NHS South Norfolk Clinical Commissioning Group, said: "Being detained by the police during a mental health crisis is a medical emergency and this new investment will allow the NHS in Norfolk to get help to these patients quickly, in a healthcare environment."