Yorkshire Ambulance Service 'almost overwhelmed' by wintry weather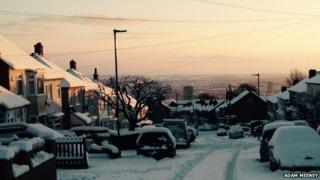 Yorkshire Ambulance Service (Yas) says it is becoming overwhelmed with extra 999 calls during wintry weather.
It said it was "very busy" even before icy conditions and freezing temperatures arrived.
The service said GP practices and NHS services closing over Christmas meant it had received a very high volume of calls for seasonal illnesses and incidents.
The additional pressure is expected to last at least into next week.
Yas covers about 6,000 square miles across Yorkshire and Humberside, serving more than five million people.
Dr David Macklin said it expected a "marked increase in weather-related slips, trips and falls and road traffic collisions".
He said hazardous driving conditions could mean it taking longer than normal to reach patients in the worst-hit areas.
Dr Macklin urged people calling for help to do so only in an "absolute emergency when it is obvious that someone has a serious or life-threatening illness or injury".