Merseyside's lost seal Dumbledore has pneumonia, RSPCA say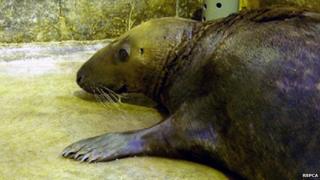 A seal found exhausted in a field about 20 miles from the sea is being treated for pneumonia, the RSPCA said.
Dumbledore, named after the Harry Potter character, was transferred to Norfolk for treatment after being found in Newton-le-Willows on 22 December.
Sue Levings from RSPCA East Winch said the adult grey seal was "very poorly" but is making good progress.
It is believed the animal swam up the River Mersey and diverted up a brook though the reason why is not known.
'Very poorly'
Ms Levings added: "Dumbledore has undergone X-rays which thankfully have shown no signs of being shot - which was one of our worries.
"He is much more settled now and still looks very sorry for himself, but other than that he is quite lively," she said.
Dumbledore has been described as "very poorly" but with further care the RSPCA hopes he will "continue to make a good recovery".
After being cornered by Merseyside Police, fire officers and marine specialists, the seal was taken to RSPCA Stapeley Grange in Nantwich, Cheshire.
The 5ft (1.5m) long adult seal had suffered a head injury and had discharge from his nose.
Dumbledore was transferred to Norfolk on 23 December.