Dartford Crossing: 15% of drivers failed to pay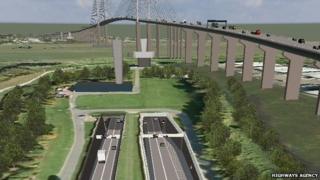 Fifteen per cent of motorists have failed to pay to use the Dartford Crossing between Kent and Essex since the new cashless system was introduced.
The new system, which replaced toll booths on the Kent side, came into force on 30 November.
Two million crossings were made during the chargeable period with about 85% of motorists paying, according to the Highways Agency.
The AA said it was more than twice the predicted failure-to-pay rate of 7%.
But a Highways Agency spokesman said the target of 93% compliance "was never a figure we expected to meet on day one of this big change".
Average southbound journey times between 07:00 and 19:00 GMT had been cut by more than nine minutes and at least four minutes had been taken off northbound trips, according to the agency.
Dart Charge project leader Nigel Gray said the system was a "big change" but with one million motorists already signed up it had got "off to a fantastic start".
"It is great that the vast majority of drivers have paid the charge. We want to give all drivers the opportunity to pay and comply with the scheme.
"That's why the first penalty charge notice issued for any vehicle for non-payment of the charge will offer the driver an extra 14 days to pay - and pay for any crossings they have made since.
"This measured approach strikes the right balance between being clear to drivers they need to pay Dart Charge and giving them every opportunity to do so."
Paul Watters, of the AA, said his association welcomed the improved traffic flow and "more sensitive approach to chasing up non-payment" of the charge.
"However, we received complaints from drivers caught up in traffic jams at roadworks during the festive period."
He said a higher level of non-payment would have been expected at the start but "underlining failures of the payment system remain and will have contributed to the 13,500 a day who don't pay".
Work on a new road layout at the crossing is expected to be completed by the spring.