Rainbow Centre raises £200K following 'closure threat'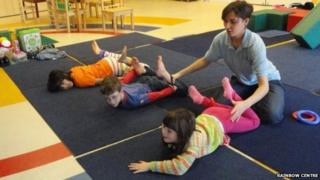 A charity which supports children with cerebral palsy and was threatened with closure last year has survived following a fundraising campaign.
The Fareham-based Rainbow Centre, which also helps adults with neurological impairments, launched an appeal to raise £15,000 in March.
Members of the public and local businesses have since raised £200,000.
The centre is accessed by people from Hampshire, Isle of Wight, Dorset, Wiltshire, Surrey and West Sussex.
Centre director, Lara Bull, had cited the aftermath of the recession for the lack of cash.
She said the centre, which is now in its 25th year and has helped 305 children and 80 adults, had developed a strategy to "ensure we should never find ourselves in this position again".
"The success of our appeal was incredible and it has meant that we are entering our anniversary year in a far stronger position financially than we have seen for quite some time," she said.
She added the funding campaign had enabled the charity to increase the number of people accessing the centre.