Summer Robertson and Alice Barnett 'swept away by currents'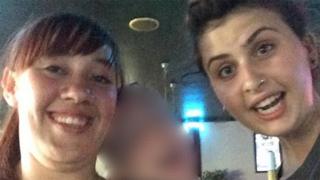 An inquest into the deaths of two British charity volunteers in South Africa heard they were dragged out to sea by fierce currents while paddling.
Summer Robertson, 21, from Shrewsbury, and 19-year-old Alice Barnett, from Canterbury, died on 4 December.
They had gone to the beach with friends in the Woody Cape area, about 100km east of Port Elizabeth.
A statement from one of the survivors described how the group had gone for "a walk in the sea".
An inquest at Shrewsbury Coroners' Court was adjourned until April.
Lieutenant Luvuyo Mjekula, from the local police, previously told the BBC the area around Woody Cape was known for strong currents.
Three people were rescued on the evening of 4 December, the same time as Summer's body was recovered.
Darkness meant police had to call off the search for Alice and resume it the following day.
The women were due to return to the UK just days later.
They had been in the country on a 10-week placement with charity Lattitude Global Volunteering, going into schools and communities teaching children about health issues.