Highways Agency censured over John Walmsley M25 death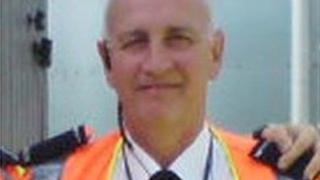 The Highways Agency has been censured for safety failings after a traffic officer was killed on the M25 in Kent.
John Walmsley had been dealing with an incident on the motorway when another car hit him in September 2012.
An investigation found the Highways Agency had not provided necessary supervision.
The Health and Safety Executive (HSE) issued a Crown Censure, which applies to government bodies. The Highways Agency said it accepted the judgement.
Mr Walmsley, 59, of Gravesend, had been deployed with a colleague to a car that had spun round in heavy rain and ended up facing the wrong direction in a live lane between junctions four and five.
'Supervision failings'
He was waiting for a recovery vehicle when he walked along the hard shoulder and a second car went out of control, skidded and hit him.
HSE inspector Guy Widdowson said Mr Walmsley had worked as a traffic officer for seven years but had not been standing behind the safety barrier.
He said: "If the Highways Agency had conducted the necessary supervisory checks between July 2011 and his death, it may have ensured he followed the correct safety procedures."
An HSE investigation found quarterly supervision checks with Mr Walmsley had not been carried out from August 2011.
Other health and safety measures were in place, but more than half the traffic officers at the Dartford depot had also not had the checks.
HSE regional director Tim Galloway delivered the Crown Censure which is applied to government bodies instead of criminal proceedings.
A Highways Agency statement said while the HSE investigation had been prompted by Mr Walmsley's death, the case against the agency related to supervision of officers.
It said: "Accepting and respecting this judgment, we have taken steps to ensure that our procedures are appropriate to the health and safety of our staff, and that we all follow those procedures.
"We remain absolutely committed to the health and safety of our people, learning from this experience."