Colchester Hospital leaves 464 people waiting more than four hours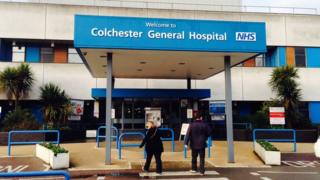 Accident and emergency target failures at four Essex hospitals hit a peak in the week after Christmas with 1,654 people waiting more than four hours.
Colchester was the worst performer with 464 people outside the target and just 64% treated within the required time.
Princess Alexandra in Harlow had 553 people waiting longer than four hours, Basildon 436 and Southend 201.
Pressures were exacerbated by a three-year high in the numbers seeking flu treatment, Public Health England said.
The only hospital in the East to achieve its target of treating 95% patients within four hours was the Luton and Dunstable in Bedfordshire (97%) where 37 patients still had long waits in the week up to 4 January, for which figures have been compiled.
In the three hospitals serving Cambridgeshire, 1,239 patients had waits of more than four hours for treatment and in Norfolk's three hospitals 889 waited.
Accident and emergency attendances were up 7.2%, emergency admission up 4.8% and ambulance delays of more than 30 minutes doubled in number, according to NHS figures.
Dr Richard Pebody, from Public Health England, sounded a warning about future performance.
He said flu strains were mutating but the vaccine currently in use would still give protection.