Shropshire baby ashes families call for investigation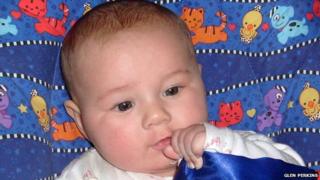 Grieving families who do not know where their babies' ashes have been scattered have called for a national investigation into what happened.
The Action For Ashes campaign group, in Shropshire, says it has been contacted by 15 families across England with similar experiences.
An investigation found a Shrewsbury crematorium failed to recover babies' ashes in about 50 cases.
An independent inquiry has been set up by Shropshire Council.
'Important to the families'
Glen Perkins is thought to be one of dozens of parents who was told there would be no remains, following the cremation of his four-month-old daughter Olivia in 2007.
He set up Action For Ashes in September.
"I had families from all over the country asking me for advice," he said.
"This is not just a Shropshire issue - this is a national issue."
He said he wanted a change in legislation forcing hospitals and crematoriums to provide remains to families.
"It doesn't matter how small an amount comes back - it's just important to the families that they have it," he said.
He said a nationwide investigation and legislative changes had taken place in Scotland, following a case at the Mortonhall Crematorium in Edinburgh.
An investigation by BBC Radio Shropshire found just one in 30 sets of baby ashes had been returned to families by Emstrey crematorium since 2004.
Other families to have contacted the group include Tina Trowhill who said the ashes of her son William, who was stillborn in 1994, were scattered in Hull Crematorium without her permission.
"I don't believe William is the only baby in Hull whose ashes have been scattered this way," she said. "My fear is there are lots of parents who don't know this has happened."
She said she was originally told by Hull Crematorium there were no ashes.
Hull City Council said: "We are in contact with Mrs Trowhill and are working with her to address her concerns."
'Mass grave'
Keith and Shirley Hudson, from Bradford, said they were not told what had happened to the body of their son Raymond who died in 1962, hours after being born.
They have now found out he was buried at Bradford's Bowling Cemetery in an unmarked mass grave.
Antonio Smith, Bradford Council's bereavement service manager, said: "We have great sympathy for the Hudson family and have helped them to locate the communal grave at Bowling Cemetery in which Raymond is buried."
David Jenkins, who is leading the Shropshire inquiry initiated by the council, said he could understand the families' concerns.
"My responsibility is to look at cases in Shropshire," he said. "I am already in touch with the Ministry of Justice asking if there is anything further they want me to take into account."