Yorkshire to be key General Election battleground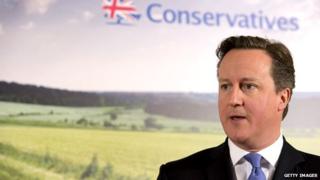 If you want to know how important Yorkshire will be in deciding the outcome of May's General Election - just ask the Prime Minister.
In fact, if you were in Halifax on the first working day of the new year you would have been able to ask David Cameron personally.
He launched the Conservative campaign poster in front of an invited audience at the town's Dean Clough Mill. Seemingly an unlikely venue, it was once the biggest carpet manufacturer in the world and is now transformed into an office and arts complex.
But Halifax could be the key that gets Mr Cameron returned to Number 10 on 7 May.
It is one of a cluster of seats along the M62 corridor across West Yorkshire where MPs are sitting on small majorities of around 3,000 - some considerably lower.
In 2010 the Conservatives took most of those marginals but failed to take Halifax as Labour clung on with a majority down to under 1,500.
If Mr Cameron hopes to lead a government with a working majority after this spring's General Election he knows the party will have to take the seat this time - and retain all the others.
The Conservatives have continued to crank up the pressure. Within a few days Boris Johnson was spotted on the streets of Halifax.
The mayor of London, tipped as the next party leader if David Cameron fails to take the party back into government, also went to Pudsey and Keighley where Conservative MPs are defending slim majorities.
'No room for complacency'
Linda Riordan, the sitting Labour MP in Halifax, took it all in her stride.
"I am glad the Prime Minister decided to come to Halifax," she told me. "At least it means he knows where the town is now."
The opinion polls appear to be on Linda Riordan's side - they all show Labour slightly ahead of the Conservative in the national polls.
There is, of course, a difference this time.
The UK Independence Party (UKIP) is the new kid on the block in Yorkshire.
So far it has made relatively little impact in West Yorkshire but with so many slim majorities it does not take much to influence an outcome.
Anthony Wells, the senior researcher for the YouGov polling organisation, says that means neither Labour nor Conservative candidates can afford to be complacent.
He believes there is evidence that UKIP is taking votes from both of them which makes it difficult to forecast results in what have traditionally been close two-horse races in the past.
An hour's drive away in the former South Yorkshire and North Midlands coalfields Labour has held every seat since the 1930s. In some of those seats once-huge majorities have eroded in recent elections.
In both Rotherham and neighbouring Rother Valley Labour is fewer than 6,000 votes ahead going into the General Election and UKIP has been concentrating its efforts here.
Ed Miliband launched his party's campaign in the region with a question and answer session with workers at a giant distribution centre near Worksop. He told me no vote can be taken for granted but says Labour's policies will win the day.
The pollsters expect Labour to hang on but it could be a close-run thing.
And what of the Liberal Democrats?
It will be tough for the three Liberal Democrat MPs in Yorkshire as the gamble of increasing support by being part of an economically successful coalition government appears not to have paid off.
David Ward in Bradford East has a majority of just 365. A few miles away in Leeds North West, Greg Mulholland has built up a much bigger cushion of over 9,000.
It would make political history if the third Yorkshire Liberal Democrat lost his seat. Nick Clegg is sitting on a big majority of more than 15,000 in his Sheffield Hallam constituency and no national leader of a mainstream party has ever been beaten in a General Election.
Pollster Anthony Wells says that he is probably safe but with the collapse in the Liberal Democrat vote since it joined the coalition he is not putting any money on it.