Charlie Hebdo Paris terror vigils in Yorkshire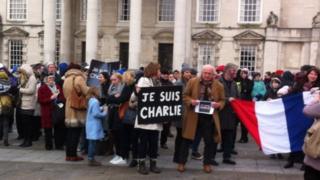 Hundreds of people have joined vigils in West and South Yorkshire to show support for those killed in three days of terror in Paris.
More than 150 people including the Lord Mayor were at the vigil in Sheffield's Barker Pool earlier.
Gatherings also took place in Bradford, Morley and Leeds, where many were holding "Je Suis Charlie" signs.
Gunmen shot 12 people dead in an attack at the Paris offices of satirical magazine Charlie Hebdo on Wednesday.
A police officer was killed on Thursday and French forces stormed two separate hostage sites in and around Paris, killing three hostage takers, on Friday.
French journalist Mireille Mason-Beguin, who lives in Leeds, said she had been "moved for three days now".
"It's been very hard because as a journalist I really feel terrible about what happened."
She said the event in Leeds was a way to support "freedom of speech and freedom of thinking".
In Sheffield, crowds observed a two-minute silence in memory of the victims.
Organisers of the Sheffield vigil, which started at 15:00 GMT, said the event was "reflecting on the lives of those killed and injured and celebrating their work, as well as the ideals that they lived and died for".
Jennifer Gray, from the Sheffield Humanist Society said: "I think it's important that everybody stands up against people who wish to be divisive."
A book of condolence has been opened at Barker Pool for people to sign or draw their own pictures in memory of the Charlie Hebdo cartoonists.
In a show of unity, millions of people including some 40 world leaders gathered in Paris for a huge march.
In London, the city's landmarks were lit in the colours of the French national flag.