Lesley Whittle: The murder that 'horrified' the public 40 years ago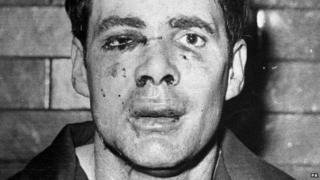 It was a case that rocked a village community and attracted the attention of the national media. Lesley Whittle was just 17 when she was kidnapped by Donald Neilson - the killer known as the Black Panther - 40 years ago.
He was a builder turned career criminal, responsible for four murders and more than 400 burglaries.
Neilson, originally from Bradford, was given four life sentences in July 1976 and told in 2008 he would spend the rest of his life in jail after a failed appeal.
Three victims were sub-postmasters, killed in armed raids in Harrogate, North Yorkshire, Accrington, Lancashire and Langley in the West Midlands.
The fourth was Lesley Whittle, the heir to one of the country's biggest private coach companies.
Her family's ordeal began at their home in Highley, Shropshire, on 14 January 1975 when Lesley's mother Dorothy went to wake her daughter and found an empty bed.
In the lounge there were three ransom notes demanding £50,000 and a warning not to involve the police.
But the ransom was not delivered and Lesley's body was found hanging in a drainage shaft in Bathpool Park, Staffordshire, seven weeks later.
Neilson was eventually caught after he was seen acting suspiciously outside a post office near Mansfield, Nottinghamshire, in December 1975.
Journalist Tony Bishop, who covered the case for the Express & Star, recalled being summoned "unusually" late one evening to a press conference at Kidderminster.
"When I arrived there was a mass of newspaper men who had been alerted to a quick story on local radio about a kidnap," he said.
"The story had been put out by a local freelancer called Bill Williams, his office in Kidderminster happened to be next to the Whittle office.
"The staff had been talking to him and told him about a local kidnap. He got most of the facts and went to the police for confirmation but all they said was 'no comment'.
"He put out the story for local radio which alerted everybody. It dismayed the police who were hoping for a bit of anonymity."
The trial heard Lesley's brother Ronald followed the kidnapper's instructions to take the money to a telephone box.
But he was late making the rendezvous and no-one came to meet him.
"He [Neilson] was a very indiscriminate sort of chap," said Mr Bishop.
"He would not stand out in a crowd, he would sort of mould into the background I feel. He looked very wiry and a friend of mine who was an officer at one of the prisons he was kept in said staff had to keep a particular eye on him because he was always contemplating escape."
He said Neilson stood out from other serial killers because "he went undetected for so long and he was so devious in his planning."
"The public were shocked by it all," he said.
"It was almost applause when the guilty verdicts came back because the story of what had happened to this girl horrified everybody. There was a great feeling of relief."
Gilbert Gray, Neilson's defence barrister, was interviewed by BBC Radio Shropshire in 2010.
"When I went down to see him in the cell he was in the corner in a pre-natal position looking so utterly broken and dejected," he said.
Neilson died in prison in 2011.
Criminologist Terry Hayden said Neilson was "uninteresting" when compared to other serial killers.
"He did not captivate the public imagination," he said.
"This was the 1970s when we had Myra Hindley and Ian Brady.
"You look at someone like Dennis Neilson and there was more in the psychology of it, more for people to get their teeth into.
"People are more interested in the more gruesome ones.
"This guy was just evil. He was not particularly calculating. There was not an intent to catch and kill, it was a means to commit robbery."