Lonely 50-year-old monkey is brought to Cornwall sanctuary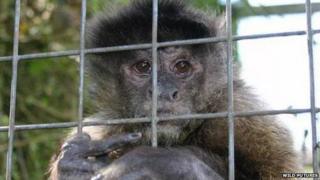 A lonely 50-year-old monkey who previously suffered mistreatment has moved to a sanctuary in Cornwall.
Daisy was first rescued from an exotic animal breeder in Wales 35 years ago and cared for by a couple in Gloucestershire with another monkey.
But when Daisy's companion died her owners appealed to the Wild Futures monkey sanctuary to provide a home.
The sanctuary believe Daisy was taken from her mother as an infant and spent time in a laboratory breeding facility.
Wild Futures raised £6,000 to bring the monkey from Gloucestershire to the sanctuary.
Tjark Plat, sanctuary site manager, said: "Everything went very smoothly on the day. We spent some time preparing to collect Daisy and we custom-built special catching equipment for each rescue that we do to ensure it is as stress free as possible for the monkey."
The couple in Gloucestershire bought the monkey after seeing her being kept in "terrible conditions" in a pet shop in Wales back in 1980.
When she was first rescued she had healed cigarette burns and badly mended, fractured fingers.
The sanctuary said capuchins are a particularly intelligent, social species that naturally live in the rainforests of South and Central America.
Daisy will soon join other capuchin monkeys rescued from the pet trade who live in specially designed enclosures at the sanctuary near Looe.