Emily Bennett brain tumour surgery cancelled three times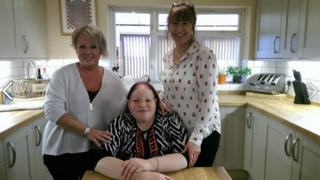 "Unprecedented" pressure on a hospital's A&E unit has been blamed for an operation to remove a benign brain tumour being cancelled three times.
Emily Bennett from Fernhill Heath, near Worcester, was first due have the procedure at the Queen Elizabeth Hospital, Birmingham, at the beginning of December.
The tumour is giving the 24-year-old seizures and memory loss.
The hospital said it "regrets" having to cancel any operation.
Ms Bennett said: "It has upset me - I thought I was going to have this operation and recover, be me again.
"My health has taken a turn for the worse as my seizures have become a lot worse now - it's scary as they can happen anywhere."
Operations cancelled
2 December - cancelled because there was a more urgent case
8 December - cancelled because no bed was available
12 January - cancelled because no bed was available
Next operation scheduled for 27 January
A spokesperson for the trust which runs the hospital said: "We regret that any operation has to be cancelled and acknowledge the distress this can cause to both patients and their relatives.
The University Hospitals Birmingham NHS Foundation Trust said cancellations of scheduled procedures reflect the "unprecedented rise in emergency surgery" due to an increase in A&E admissions.
Ms Bennett's operation has been rescheduled for 27 January.
Her mother, Maxine Renton, said her daughter has already had surgery to remover a malignant tumour, and another pair of tumours were uncovered two years ago.
On 13 October an annual MRI scan showed these had grown and the hospital said it would have to operate.
She said the constant cancellations have been "physically and mentally draining" for her and her daughter.
"It's no excuse that they haven't got any beds - they can take her to another hospital [after the operation]," she said.