Chester Zoo's breeding of cinnamon frogs is European 'first'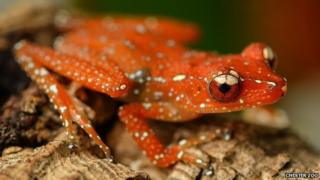 A frog usually found in the forests of South East Asia has been successfully bred in Europe for the first time, zoo experts have said.
Chester Zoo's 43 newly-hatched cinnamon frogs are also the only captive births for the species globally for two years.
The zoo's Ben Baker said habitat loss had made the frogs "extremely fragile".
He said the "beautiful and complex" frogs could also provide valuable information as "relatively little" was known about them.
The "secretive species" normally live in tropical forests and the zoo recreated their natural habitat conditions to try and encourage breeding.
Mr Baker, the zoo's manager of lower vertebrates and invertebrates, said their enclosure tried to "mirror closely" the bark and leaf-filled ponds they were usually found in.
---
Cinnamon frogs
Cinnamon frogs are found in southern Thailand, Malaysia, Singapore, Sumatra, Borneo and Palawan in the Philippines
Adults grow to about 1.2in (3cm) in length
They live in the shrub and lower trees of tropical forests and breed in water-filled tree cavities and rotting logs
Source: International Union of the Conservation of Nature
---
He said the hope was to "learn a lot from our new arrivals".
"Relatively little is actually known about the cinnamon frog [and] the delicate work put in to getting these beautiful but complex animals to breed and all of the intensive care we're now giving them will help us to build up our knowledge base.
"This kind of information can be invaluable for the long-term protection of the species."
The frogs are listed as near-threatened by the International Union of the Conservation of Nature.