Halesowen and Belsize Park murders accused 'knew victims'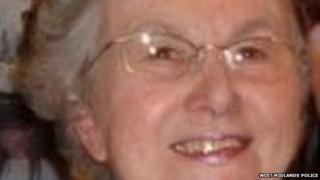 Two pensioners found dead at their homes in the West Midlands and London both knew the man accused of their murders, a court heard.
Leo Barnes, 33, is accused of killing 80-year-old widow Cynthia Beamond and Philip Silverstone, 67, last June, Wolverhampton Crown Court was told.
The prosecution said Mr Barnes hit Mrs Beamond on the head with a "heavy object" before travelling to Belsize Park where Mr Silverstone was killed.
Mr Barnes denies two charges of murder.
Prosecutor Stephen Linehan QC said the case was about the senseless and brutal murders of two entirely innocent people, on consecutive days.
"They didn't know each other - the only link between them was that at some stage in their lives they had had the misfortune to come into contact with the defendant, Leo Barnes, and he had got to know them and to know where they lived," he said.
"That is what led to their deaths."
Mr Barnes, from Runcorn Road, in Balsall Heath, Birmingham, is also alleged to have stolen property, including a television from the Halesowen home of Mrs Beamond, whom he had known since childhood.
Jurors were told Mr Barnes claims someone else carried out the killings.
The trial continues.