Jayden Parkinson murder: Jake Blakeley 'knew he was burying teen'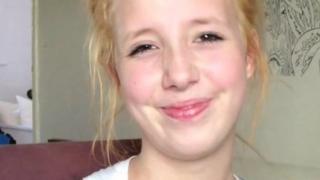 The 18-year-old brother of the man who killed teenager Jayden Parkinson "knew full well what he was doing" when he buried her, a trial has heard.
The 17-year-old was strangled by Ben Blakeley, 22, from Reading, in December 2013, and buried in his uncle's grave.
Blakeley was jailed for life for her murder in July last year.
The court heard Jake Blakeley, from Abbotts Road, Didcot, thought he was burying weapons, a cat and a dog. He denies preventing a lawful burial.
Jayden's body was discovered in the grave of Alan Kennedy in the cemetery at All Saints' Church, Didcot, Oxfordshire, on 18 December 2013.
The court heard she had previously been buried in a field in South Oxfordshire, where Blakeley killed her.
Opening the prosecution case, Martin Walsh said evidence including a hole at the field, measuring 1.75m-long (5ft 8in), 60cm-wide (1ft 11in) and 30-40cm-deep (11in-1ft 3in), proved Mr Blakeley knew he was burying Jayden's body in what he described as a "grave".
Jayden was 5ft 6in-tall (1.67m), the court was told.
Discussing Blakeley's contact with his brother, Mr Walsh said: "He was asking his family for help. He was in a panic and he was talking to people he thought he could trust."
The trial at Oxford Crown Court is expected to last two weeks.