Guildford 999 police car killing: Soldier was drinking on night out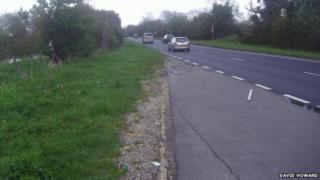 A friend of a trainee soldier who was killed by a police car in Surrey has told an inquest into his death about their night out before the crash.
Joshua Brown, 21, was hit by a marked car on an emergency call as he walked on the road in fog at the Hog's Back in Surrey, on 1 December 2012.
His friend Charles Fox said they had been drinking at the Naafi at their barracks in Bordon, Hampshire.
The pair then went into Guildford by taxi with two other soldiers.
The inquest in Woking has heard that Mr Brown, from Retford, Nottinghamshire, a craftsman with Royal Electrical and Mechanical Engineers, was hit by the police car travelling at about 80mph in thick fog on the dual carriageway.
The incident happened at about 03:35 GMT in Puttenham, as Mr Brown walked back to Bordon.
Pints and shots
Mr Fox, who has since left the army, said that on the evening of 30 November he and Mr Brown drank about five pints each at the Naafi before going into Guildford.
They tried to get into a Wetherspoons pub but were refused entry and then went on to Flares nightclub, where they drank about another four pints and some shots.
At about midnight they went to Dusk nightclub and were at first refused entry because the doorman said he thought Mr Brown needed something to eat.
After getting some chips the pair were let in, but they split up at that point. Mr Fox said he had no recollection of seeing Mr Brown for the rest of the night.
The next contact was when he picked up two texts from him the next morning asking here he had gone.
The inquest, which is due to last three weeks, continues.