European Union: "Referendum" reveals "yes" vote to leaving the EU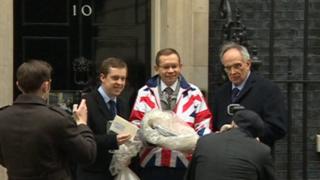 They're claiming it's the first EU referendum in 40 years. Two of the region's MPs and neighbouring parliamentary candidate, Tom Pursglove, have been polling three constituencies in Northamptonshire.
And, hold the front page, the majority of people who responded said they would vote to leave the EU.
The poll was completely unofficial but 100,000 voting forms were sent out across East Northamptonshire, Kettering, Wellingborough and Corby.
Full marks for effort but is it really a test of public opinion? "Yes", said Wellingborough MP Peter Bone.
"People say democracy doesn't exist, well here we are, volunteers delivering 100,000 ballot papers and private donations funding the ballot and we have a clear result.
"It would be very difficult to interpret an 80% plus wanting to come out of the EU as support for staying in the EU. It's clear that middle England want to come out of the EU.
"It engages local people in democracy which is what I hope most politicians want to do."
'Magnificent response'
Of the 100,000 ballots sent out, only 14,000 of them were returned. Of that 14,000, an overwhelming 81% said they want out.
Kettering MP, Philip Hollobone argued: "It was a genuine attempt to gauge local opinion, we have had a magnificent response and the overwhelming result is that people want to leave.
"If there was a national referendum I don't think they would be the figures, I think it would be far closer than that but we've given people the chance to have their say."
It won't change anything but those behind the ballot hope it reflects public opinion on the EU.
"What we are saying is that we will not support any government that doesn't offer us an EU referendum by the end of 2017," said Peter Bone.
The results were handed into Downing Street but they don't carry any official weight.
The MPs took matters into their own hands after nagging the PM because they didn't want to wait for the promised in/out vote in 2017.
So some of the people of Northamptonshire have had their say.
The rest of us will have to wait.