Hog's Back police crash death: PC's driving 'was safe'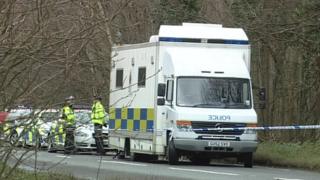 A police driver who hit a trainee soldier on the A31 near Guildford has told an inquest his driving was safe.
PC Adam Springett was on an emergency call when his marked car struck 21-year-old Joshua Brown in December 2012.
The soldier was walking along the Hog's Back in Surrey - a dual carriageway with no pavement - when the car hit him at 81mph, Surrey Coroner's Court in Woking heard.
When asked if he had been driving too fast, PC Springett said "no".
The inquest heard it was foggy that night but with reduced visibility in patches.
The car did not have its blue flashing lights on and the sirens were not being used but this was usual practice at that speed on a dual carriageway, the hearing was told.
PC Springett said: "I wasn't aware there were any pedestrians on the road and I didn't expect any.
"I have never seen pedestrians there before. There's no facility for them to walk on that road."
"I believe my driving was safe and I took all necessary precautions to ensure that."
He told Mr Brown's family: "I went to work that night to help people and this happened. I'm sorry."
Mr Brown, from Retford, Nottinghamshire, was a craftsman with the Royal Electrical and Mechanical Engineers based at Bordon in Hampshire.
During the hearing, PC Jamie McLaughlan, a colleague in the car, was asked if had considered telling PC Spingett to slow down.
He replied: "I didn't feel the need to tell him to slow down as I didn't think he was driving carelessly."
The inquest was adjourned until Monday.