Gatwick expansion: Mole Valley council to oppose plans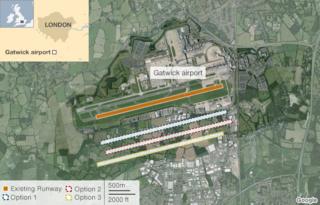 Plans to build a new runway at Gatwick Airport are to be formally opposed by Mole Valley District Council.
Members backed a recommendation for the executive committee to object to the West Sussex airport's expansion because of concerns about infrastructure.
But they also agree the authority should not oppose an extra runway or lengthening of the runway at Heathrow.
Gatwick Airport said any development caused by its expansion would be "spread over a wide area".
Mole Valley councillor John Northcott said one of the authority's main concerns was the number of houses that would need to be built to accommodate extra Gatwick staff.
The airport has previously said its expansion would create 120,000 jobs.
He said the council did not support the proposals for Heathrow but would not object to them.
'Workers would commute'
A spokesman for Gatwick said: "Development associated with a bigger Gatwick would be spread over a wide area and not just in localities close to the airport.
"For example, new homes would be built in a dozen or so local authority areas and over twenty to thirty years.
"Rail capacity at Gatwick is also set to nearly treble by 2035 so many workers would commute to Gatwick from outside the local area, including from deprived areas in south London and the south coast."
The Airports Commission will decide whether a new runway will be built at Gatwick or Heathrow later in the year.
Mole Valley District Council said a detailed response to the commission's consultation would be agreed on 3 February.