Spleen rupture death answers sought from Stafford health bosses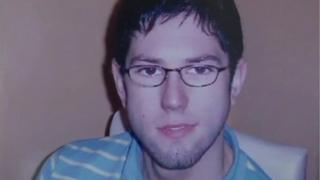 The family of a man who died when Stafford Hospital doctors missed a ruptured spleen said it was "shameful" nobody will be held to account.
John Moore-Robinson, 20, died at his Leicestershire home in 2006 after staff at the troubled hospital failed to notice the severity of his injuries.
Parents Frank and Janet Robinson said a meeting with the health secretary went well.
But they feel no-one will ever be held to account for their son's death.
Mr Moore-Robinson suffered a ruptured spleen in a cycling accident on Cannock Chase but was sent home diagnosed with bruised ribs.
Hours later he collapsed and died at his Sileby home.
An inquest at the time recorded a narrative conclusion, but an internal report that criticised his care was withheld from the hearing.
An investigation into the trust that ran the hospital at the time revealed between 2005 and 2009, there were between 400 and 1,200 more deaths than would have been expected.
A second inquest was ordered and last year it found six separate shortcomings at the hospital's A&E, all of which contributed to his death.
The family has since received an apology from the Department of Health and on Thursday had a meeting with Secretary of State Jeremy Hunt.
Mr Robinson said that he asked Mr Hunt about events following the death of his son.
"He did say 'This is what you get when professional bodies close ranks. Unfortunately that does happen in the NHS'," Mr Robinson said.
"In the coming weeks hopefully we will get [the final answers]. It's a path we have had to travel... it's been a long hard path, hopefully now we are coming to that journey's end."
But while Mr Robinson said it was a "fruitful meeting" they do not believe anybody will be disciplined.
"We now know that nobody is going to be held accountable for John's death, which we still find very hard. It's a bitter pill to swallow because people were negligent.
"People did some dreadful things after John died and none of them have been held to account and we feel nobody will, which is shameful."