Government face legal challenge on rural homes change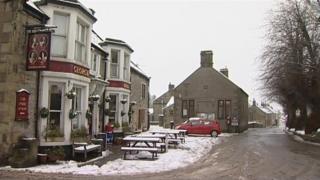 If I mention 1066, you'll no doubt think of the Normans and their impressive castle building.
But chop off a six and the figure 106 is also one to remember, especially if you believe that every man's - and woman's - home is their castle.
In local government land, the Section 106 issue is about to prompt a clash of swords between government ministers and some council leaders.
That's because of government changes to Section 106 of planning regulations. It has a particular impact on rural areas, such as the Derbyshire Peak National Park, where small plots of development land often only have space to build up to 10 homes.
The change has now removed the requirement to build social housing and there's a warning it'll have an impact in areas that already have some of the most expensive housing in the East Midlands.
Now the change of Section 106 could end up being challenged in the courts.
Derbyshire Dales District Council wants to reinstate those regulations that ensured all new developments included some "affordable homes" for rent.
That certainly matters for trainee nurse Cassandra Hodgkinson. She was brought up in the Peak District village of Youlgreave and is one of its former carnival queens.
For the last eight years, she's lived in rented accommodation in Bakewell with her electrician husband and their three children.
Youlgreave is a 10 minute drive away and she wants to live there again. But high property prices are making that an impossible dream.
"All my family - my mum and dad - all live in Youlgreave," she said.
"It does mean a lot. I've got memories there and I would like my children to have the same as I did.
"But I feel I've been pushed out because it's become so expensive and finding suitable rented homes is so difficult."
To afford to secure an 80% mortgage on an average home in this area of the Derbyshire Dales, your annual income would need to exceed £58,000.
That makes it one of the most expensive housing areas in the East Midlands and £20,000 more than the regional East Midlands average.
Little wonder low earners are priced out.
"I couldn't afford to get a mortgage in Youlgreave. It's just too expensive. Renting could be an option but even then, the rent is high and there's very little available," says Cassandra.
In March, a small development in Youlgreave of new homes for rent - costing £500 a month - will be complete. It's been built by the Peak District Rural Housing Association.
But its area manager Alison Clamp warns of the consequences of Section 106 being changed, especially when homes are snapped up by wealthier outsiders wanting to escape to a second home bolthole at weekends.
"We are in danger of having villages in the Peak District ending up like ghettos for the elderly rich," she said.
"Villages like Youlgreave have a wonderful community but it needs to rejuvenate and keep its young people here, otherwise it'll die."
That's why there's growing political heat on government ministers from rural areas - like the Derbyshire Dales - to reinstate Section 106.
The leader of Conservative-run Derbyshire Dales District Council, Lewis Rose, says without it, builders would always rather shy away from having to build social housing.
"I can't see there's going to be a philanthropic builder who's going to build affordable housing at affordable prices. They're really interested in building nice and expensive houses that make money," he said.
Now there's to be a legal challenge in a bid to overturn the government's Section 106 decision.
"Some authorities are seeking a judicial review and we have provided them with the evidence of how it will affect us in the Derbyshire Dales and the funding we are going to lose for building affordable homes," said Mr Rose.
But Housing Minister Brandon Lewis said the planning changes will help to make the cost of building a home up to £15,000 cheaper.
He said 200,000 "affordable homes" had been built since 2010, of which 73,000 were in rural areas.
"This is also supporting the nation's self-builders, ensuring any builder helping to turn someone's dream home into a reality or build an extension to an existing property doesn't get lumbered with Section 106 charges, mirroring what the government has already done on exempting them from the community infrastructure levy."
"But we are also clear that strong planning protections remain in place for National Parks."
If there's no thaw in the Section 106 planning row, this battle could end up in the courts.