Samuel McKinley: Jailed father of life-term sons found in Ireland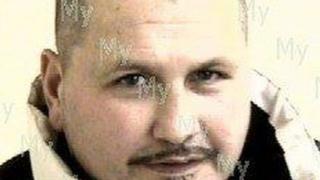 A father of two convicted murderers has been found after absconding from a prison where he had also been serving a life sentence for murder.
Samuel McKinley, 53, did not return from a pre-release work scheme to Maghaberry Prison in County Antrim in December.
But he has been located after turning up at a hospital in the Republic of Ireland complaining of chest pains.
His sons were jailed for the murder of a newsagent in Eastleigh, Hampshire.
Jonathan and Samuel McKinley, aged 23 and 25, of no fixed address, murdered Choudhry Zishan, 35, outside his home in March, while his pregnant wife and son were in the flat above.
Police were not linking the absconding of their father, formerly from the Shirley area of Southampton, to their conviction.
It has not been confirmed whether McKinley will be returned to Northern Ireland.