Silence at junior rugby aims to tackle 'abuse'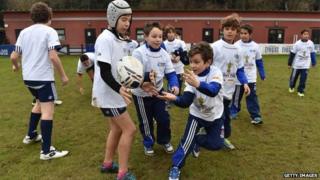 Parents and coaches at junior rugby matches in Yorkshire are being asked to watch in silence as part of a drive to "challenge pitch-side behaviour".
Yorkshire Rugby Football Union (YRFU) said a "small minority" of people were "definitely not living rugby's core values" - and should "reflect" on that.
It said some referees had been verbally abused and were "constantly having their decisions questioned".
Silence has been requested at matches this Sunday, and again next Sunday.
In a letter entitled #SilentSundays, YRFU secretary Dawn Rathmell said pitch-side behaviour was leading referees to quit, and making it harder to recruit new ones.
'Under attack'
"Some coaches, parents and spectators are constantly shouting at their players," she wrote.
"Junior players who leave the game have highlighted this pitch-side pressure as a reason for giving up."
The letter said YRFU wanted the silent Sundays to "help those who love the game to reflect" on the knock-on effects of their actions.
"There is a small minority who are definitely not living rugby's core values whilst coaching or watching rugby on Sunday mornings," it said.
"However, rugby's core values are under attack not because of those coaches, parents, volunteers and spectators who fail to show discipline and respect, but because of those who look on and do nothing."
All Yorkshire rugby clubs with a junior section will receive flyers about the campaign, but YRFU said there would be "no enforcement" of the silence - though staff would be "dropping in on clubs to see how the days are going".
The letter ends by saying that British and Irish Lions legend Sir Ian McGeechan, who is pictured on promotional flyers with his hand over his mouth, "fully backs #SilentSundays".
Gregg Bayliss, the Rugby Football Union's development officer for central Yorkshire, told BBC Radio 5 live rugby must have its "house in order" ahead of the world cup later this year, which is expected to prompt new players to take up the sport.
He said the silence scheme had received a "very mixed reaction" but most people supported it.