West Sussex NHS deal ends over hospital finances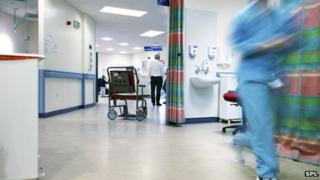 A £235m contract to run an NHS service in West Sussex has fallen through.
Bupa CSH - a partnership between Bupa and Central Surrey Healthcare - had been chosen as the preferred bidder to provide musculoskeletal services (MSK) in the area but has said it will not be continuing with the deal.
But, it said a study had shown the finances of Western Sussex Hospitals NHS would be worsened by the deal.
The decision was taken with NHS commissioners, Bupa CSH said.
The hospital trust had called for the deal to be reviewed amid claims it could end up unable to run its two A&E units.
Campaigners had also opposed the award of the contract to Bupa calling it NHS privatisation.
'People's victory'
Peter Lock and Jo Pritchard, of Bupa CSH, said the aim had been to provide improved levels of care.
"The recent impact assessment means we cannot deliver the model we proposed without either compromising on the quality of care of destabilising other services," they said.
Coastal West Sussex Clinical Commissioning Group (CCG) said it was disappointed but accepted the position.
The CCG said it would discuss options and would outline its next steps shortly.
The hospital trust said it recognised the CCG wanted to improve services and looked forward to working with them.
Margaret Guest, from the Don't Cut Us Out campaign, said people had campaigned, protested, lobbied and signed petitions in their thousands to oppose the deal.
She claimed the decision was "a victory for the people".