Retired teacher David Lowe found guilty of historical sexual abuse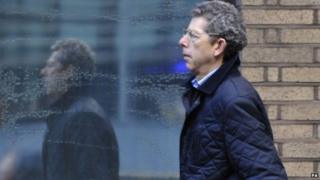 A retired teacher at two Catholic boarding schools has been found guilty of 15 counts of historical indecent assault against boys under 14.
David Lowe, 61, of of Charlotte Street South, Bristol, assaulted eight to 13-year-old boys between 1978 and 1984, Southwark Crown Court heard.
The offences took place at Westminster Cathedral Choir School and Ampleforth College in North Yorkshire.
He targeted 10 victims, leaving sweets and treats for his "special group".
Judge Martin Beddoe told Lowe, who is now retired from teaching, that it was inevitable that "you will receive a sentence of imprisonment on the offences on which you now stand convicted".
Lowe invited the youngsters to his flat and "spanked" them when they had broken school rules. He also crept into a dormitory and touched them while carrying out night-time checks.
A former pupil told the court he was 10-years-old when he was abused.
In 1981, one of his victims complained about being repeatedly abused, and shortly afterwards the teacher left the prestigious school, Philip Bennetts QC, prosecuting, told the court.
However, it was not long before he started working at Ampleforth College, where he abused four of his 10 victims.
Jurors heard that Lowe had a "small group of pupils that he was extra friendly with", and invited some to his wedding.
The judge conditionally bailed Lowe to next appear at the same court for sentencing on 5 February.