Marmalade: Man found not guilty of Maidstone cat theft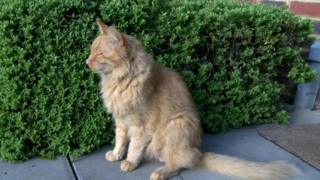 A man has been found not guilty of kidnapping his ex-partner's pet cat.
Marmalade, a 13-year-old ginger cat, was found nearly four months after going missing from Tracy Brewster's Maidstone home in July.
The cat, nicknamed Marmie, was found nearly 40 miles away in Surrey in November after Ms Brewster launched an online media campaign.
Jonathan Brewster was found not guilty of theft at a hearing at Sevenoaks Magistrates' Court.
Speaking outside the court, Ms Brewster said: "I'm just glad to get Marmalade back, that's all that matters at the end of the day."