Bristol sex gang jail sentences increased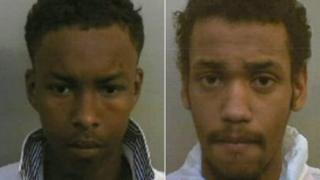 Two Bristol men involved in a sex ring, which involved the rape, abuse and prostitution of teenage girls, have had their jail sentences increased.
Said Zakaria, 22, was sentenced to 11 years in prison last November. His sentence has been increased to 16 years at the Court of Appeal.
Omar Jumale, 20, has had his two-year sentence increased to three years.
They were part of a gang of nine men who committed a range of sexual offences on four young girls.
Zakaria was found guilty at Bristol Crown Court of rape and having sex with a child. Jumale was found guilty of having sex with a child.
'No regard'
Their cases were referred to the Court of Appeal by the Solicitor General, Robert Buckland, as being unduly lenient.
Speaking after the hearing he said: "Zakaria and Jumale were part of a wider gang that targeted young and vulnerable girls with no regard for their safety and welfare."
The trial had heard that a 13-year-old was raped four times by three men in a Premier Inn in Bristol city centre.
The victims, aged between 13 and 17, were told it was part of the men's "culture and tradition" and "men always have sex with each other's girlfriends".