Cardiac arrest trial opt-out plan criticised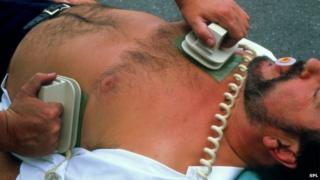 Anyone who might receive treatment by the South Central Ambulance Service for cardiac arrest must choose to opt out of a trial that could see them receive a placebo instead of adrenaline.
The study begins in Berkshire, Buckinghamshire, Hampshire and Oxfordshire next month.
People who do not want to be involved must apply for a medical bracelet.
However, a medical ethics adviser said the bracelet system was flawed as not many people would apply for one.
During the trial, which will study whether using adrenaline during resuscitation is actually harmful, some patients who suffer cardiac arrest outside of hospital will be given saltwater instead of adrenaline by paramedics.
Ethical question
British Heart Foundation medical director Peter Weissberg said: "The concern is it [adrenaline] could be doing patients more harm than good.
"The only way to answer this crucially important question is to do a well-designed clinical trial."
People who want to opt out need to apply for a stainless steel bracelet, engraved with "no study", for the duration of the three-and-a-half-year trial.
Carolyn Johnston, adviser in medical law and ethics at Kings College, London, said she did not agree with a presumption of patient consent if they were not wearing such a bracelet.
She said: "People tend not to act to make choices in advance - we don't know if any of us are having a cardiac arrest.
"I can see the need for the research but it seems to be putting all the onus on us... to make a decision to opt out."
The University of Warwick-led study involves five ambulance trusts, which are rolling out their pilots at different times.
The trial has raised questions about the ethics of experimenting with patients whose lives are at risk, but has been approved by the Research Ethics committee.
More than 50,000 people suffer cardiac arrests outside of hospitals each year in the UK, with 8% leaving hospital alive.