Severn Area Rescue Association gets 'biggest' grant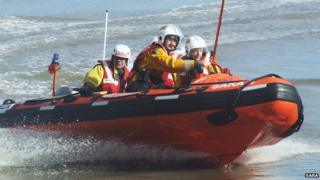 A Gloucestershire-based rescue charity has been given its "biggest ever" grant to buy a new boat and safety equipment.
The Severn Area Rescue Association will get £221,000 from the Department of Transport, which it says is five times the size of its previous highest award.
It plans to replace the largest craft at its Beachley Station and buy new protective equipment for its crews, such as helmets, dry suits and gloves.
Charity chairman Chris Crowley said it would help its cash flow "massively".
"We're a very asset-rich organisation, but our expenditure quite often nearly matches our income," he said.
"And with the recent austerity [measures] and public donations being reduced because of financial lows, we find ourselves really challenged in trying to provide new kit, and training and boats for front-line service."
The money is coming from a £5m pot being distributed to water rescue charities across the country.
SARA is based at The Lifeboat Station in Beachley, and has four other stations at Sharpness, Tewkesbury, Kidderminster and a new kit store at Newport Docks.