Plaque marks 100 years since Blind Veterans UK founded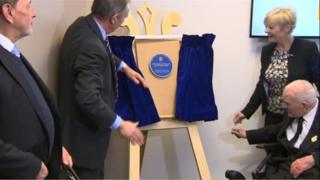 A 99-year-old World War Two veteran has unveiled a plaque to mark 100 years of the charity Blind Veterans UK.
Ron Freer, from Margate in Kent, has received support from the charity for almost 70 years.
He said it had allowed him "to live a long, happy and independent life" since losing his sight during the war.
The plaque in London marks exactly 100 years since the first meeting of the charity, which was known as the Blinded Soldiers' and Sailors' Care Committee.
The plaque is located at the DoubleTree Hilton Hyde Park hotel on Bayswater Road, which was the site of the charity's first centre.
It now has three centres - in Brighton, Llandudno, and Sheffield.
Mr Freer was joined at the unveiling by former home secretary and the UK's first blind cabinet minister David Blunkett.
The chief executive of Blind Veterans UK, Maj Gen Nick Caplin, said over the past 100 years the charity had helped 35,000 veterans and their families.
He said: "It is a critical time for our charity as the number of blind veterans we support is increasing.
"In the past year, more blind veterans have registered for our help than ever before in the charity's history and this trend is set to continue."