Early A&E leavers in the south costing CCGs £4.8m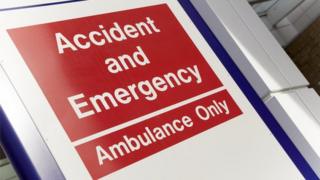 More than 70,000 people have left A&E departments in the south of England in the past nine months without being treated, the BBC has learned.
Some patients left because they were bored, while others had minor problems like coughs and colds doctors would not treat, medical bosses said.
The cost to the Clinical Commissioning Groups (CCG) is about £4.85m.
Each A&E visit costs CCGs about £70 in staff costs, including an initial assessment by triage nurses.
'Small proportion'
The largest number of people who visited their A&Es was in Dorset, where 24,257 visited and left without treatment - costing £1.4m.
In Berkshire, there were 12,600 people who left without treatment, costing £816,482, in Oxfordshire 14,630, costing £993,670, and in Hampshire and the Isle of Wight 23,208, costing £1,644,235.
Dr Andrew Burnett, from the Oxfordshire CCG, said: "By far the majority of people use health services wisely and sensibly, it's just there's a small proportion.
"Often, they're people who are maybe under the influence of alcohol or just frightened or frail or elderly or maybe with mental health problems, people who aren't necessarily making the wisest decisions in life.
"It's not the hospitals' fault it's just that we as a system are not dealing with them properly and we need to look at how we can help that vulnerable group."