Thameslink commuters' e-petition leads to better compensation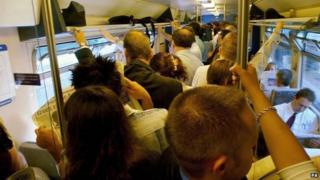 Frustrated commuters who set up an e-petition over service failures on the Thameslink line between Bedford, London and Brighton are toasting a victory.
Govia Thameslink has agreed that better compensation would be available from Sunday as well as apologising.
Passengers' main complaint is that Govia took over the service promising lower fares but this was at the cost of staff numbers and maintenance.
"Unsatisfactory" compensation has now been increased by 5%, the firm said.
The petition statement said: "Govia Thameslink won the bid to run our trains by vowing to cut costs.
"It appears they have done this by reducing staff and foregoing essential maintenance work."
Tunnel flooded
The petition refers to service delays, broken down trains and signal failure.
"The repayment service is unsatisfactory because often delays fall just short of the 30-minute milestone necessary to reclaim fare."
The frustration hit a high over after a tunnel was flooded in Farringdon last Friday.
The petition, started before Christmas, had gathered more than 2,500 signatures by this week.
It was hailed as a platform for commuters to express their frustration with a service which is their only route to London and appears to be getting worse.
Govia Thameslink said: "We apologise again to our passengers for the significant disruption since last Friday's burst water main.
"Services are back to normal but we have some shorter trains in service while repairs are carried out to those damaged by the floodwater.
"We've been advertising widely the enhanced compensation we have for season ticket holders.
"From Sunday, we'll also be increasing the rate of standard compensation by around 5% to bring it in line with what was offered previously under First Capital Connect."