Landslip stops Chiltern Line trains at Harbury Tunnel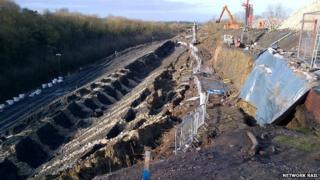 Passengers are experiencing a third day of travel disruption after a major landslip closed a railway line between Banbury and Leamington Spa.
Chiltern Railways said no direct trains could run between London and the West Midlands for "at least a week".
The landslip occurred near Harbury Tunnel in Warwickshire on Saturday, the scene of a similar incident last year.
Engineers were not able to access the site because the land was still moving, Network Rail said.
A replacement bus service is running between Leamington and Banbury, adding about 90 minutes to journey times.
'Very unstable'
Chiltern Railways is also running revised services between London Marylebone and Banbury and between Leamington and Birmingham Moor Street.
Virgin Trains and London Midland are accepting Chiltern Railways tickets, the firm said.
Thomas Ableman, spokesman for Chiltern Railways, said the line would be open next Monday at the earliest, but advised anyone with travel plans for next week to prepare for the line remaining closed.
"At no point was there a risk, but in terms of timescale of opening the line there is now 300,000 tonnes of earth and rock which is very unstable and could fall on to the track at any time," he said.
Stabilisation work was carried out after a smaller landslide at the site on 14 February 2014.
Dan Donovan, Network Rail spokesman, said engineers had been able to repair the damage over one weekend last February but this landslip was "much worse".
"The land is still moving, it is extremely dangerous. We can't begin carrying out detailed assessments at the site," he said.
Mr Ableman said the embankment had been a problem since the track was laid 150 years ago.
Isambard Kingdom Brunel's decision not to build a tunnel meant the cutting was unusually deep with steep sides, he said.