Phoenix Nights' Ted Robbins was 'due to have heart surgery'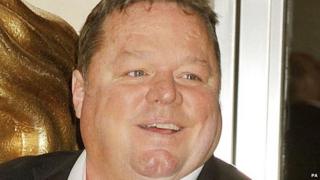 Phoenix Nights comedian Ted Robbins, who collapsed on stage on Saturday, had been due to have routine heart surgery, his sister has said.
Kate Robbins said her 59-year-old brother had suffered a cardiac arrest during the opening night of the Phoenix Nights Live show at Manchester Arena.
The veteran comedian was "doing great" in hospital, she said.
Video of his on-stage collapse has been removed from The Sun website after Ms Robbins condemned its publication.
Ms Robbins, an actor, singer and former Spitting Image voice artist, told BBC Radio 5 live: "Thanks to the really quick thinking of a doctor and a paramedic in the audience, he received a life-saving procedure.
"Ted had rheumatic fever as a child, which affected a heart valve - so we knew there was a problem and he was due to have some routine heart operation in the next three weeks."
The Sun published video of Robbins' collapse earlier on Monday but deleted it after Ms Robbins tweeted that their decision was "beyond belief" and "vile".
A spokesperson said: "We published this video with careful consideration of the fact that Mr Robbins was now sitting up and talking in his hospital bed. However, at the express wishes of the family, this video has now been withdrawn."
Robbins collapsed shortly after the interval on the first of 15 planned dates. Profits are going to the Comic Relief charity. The second show, on Sunday, went ahead, as will the remainder of the dates.