Fred Talbot trial halted after he is injured in witness box fall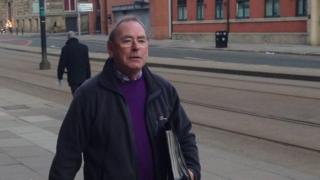 The trial of former TV weather presenter Fred Talbot has been halted after he was injured when he tripped while leaving the witness box.
The 65-year-old was helped from the court by ushers with a bleeding wound on his forehead and was taken to Manchester Royal Infirmary.
He had started giving evidence at his trial at Manchester's Minshull Street Crown Court on charges of historical indecent assaults on underage boys.
He denies all 10 counts.
In Court: BBC North West Tonight's reporter Mark Edwardson
There were audible gasps when Mr Talbot lost his footing as he left the witness box during a recess in proceedings.
He hit his head on a table, leaving a bleeding wound on his forehead. He appeared unconscious for a short time.
The court was cleared while Mr Talbot was given first aid after the fall at about 11:50 GMT.
A short time later an ambulance siren was heard outside the court and he was taken to Manchester Royal Infirmary for treatment.
Mr Talbot, from Bowdon, Greater Manchester pleaded not guilty to indecently assaulting five underage boys between the late 1960s and the early 1980s during his former career as a teacher.
'Sheer misery'
The jury was later called back in by Judge Timothy Mort and told that proceedings were adjourned and, "fingers crossed", would resume on Wednesday.
Mr Talbot had been in the box for about 20 minutes, during which time his barrister, Suzanne Goddard QC, asked him about his sexuality, early life and career.
She asked him when he realised he was homosexual, to which he replied 14.
He told the court: "When I was in the sixth form a few people guessed and made my life a sheer misery."
The court heard he had a girlfriend when he was 16 and had "one-night stands" with girls during his teenage years, but he added he had "sexual contact" with boys and older men.
Miss Goddard asked him what had inspired him to become a teacher.
Mr Talbot said: "I wanted to change the world. The belief I have always had is that education can improve people.
"I still have that view."
'Improving his mind'
Four of the complainants were teenage pupils at Altrincham Grammar School while the other studied at Eldon High School, Gateshead, where Talbot was on placement from training college.
Mr Talbot denies anything sexual or inappropriate occurring between himself and the Altrincham pupils.
He admits consensual sexual activity took place with the latter pupil, but said it only happened when the boy turned 16.
Mr Talbot said he was 19 when he first met the Gateshead pupil.
He explained he wrote a dissertation about him as part of his studies because he thought he was a "very interesting character".
He said: "I had to get approval to follow this kid for a whole year."
The defendant agreed he had invited him to visit his college accommodation, as he did with other boys.
The youngster went on to stay overnight at his accommodation, Mr Talbot said, and the pair would enjoy trips out.
The TV star said: "It was this idea of improving his mind, giving him new opportunities."
Mr Talbot is best known for presenting the weather forecast on a floating map in Liverpool's Albert Dock for ITV's This Morning programme.