Ex-Cleveland police boss Ron Hogg may face charges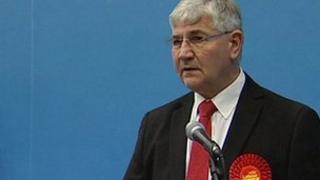 The former deputy chief constable of Cleveland Police could face charges after a probe into claims he accepted benefits he was not entitled to.
The Independent Police Complaints Commission (IPCC) said it had sent its investigation findings into Ron Hogg to the Crown Prosecution Service (CPS).
Mr Hogg, currently Durham's police and crime commissioner, said he was "astonished" by the decision.
He explained the payments were related to a performance bonus scheme.
The IPCC said the probe related to payments Mr Hogg received during his final period as deputy chief constable of Cleveland.
The investigation began in 2013. At the time Mr Hogg said he was "confident" he acted in "good faith" throughout.
'Outstanding performance'
A statement from the IPCC said: "The CPS will determine whether there is evidence to warrant criminal charges."
The allegations were referred to the commission by Durham's Police and Crime Panel after receiving information from officers working on Operation Sacristy - a probe into alleged corruption at Cleveland Police.
In a statement, Mr Hogg said: "When serving as deputy chief constable with Cleveland Police I received three benefits.
"These were awarded by the Cleveland Police Authority in recognition of outstanding performance.
"The benefits were made in accordance with the national performance bonus scheme in place at the time, and I believe that in one instance the decision was made following independent legal advice.
"As an employee, I played no part in making any of these decisions, and thus, I am both astonished and disappointed at the decision to refer this matter to the CPS."
Mr Hogg 30-year career as the assistant chief constable in Durham and deputy chief with neighbouring Cleveland, before retiring in 2008.