Spanish police rescue British holidaymakers trapped by snow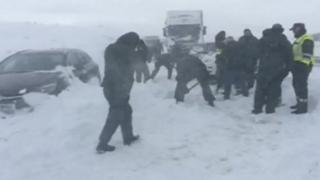 A group of retired people from East Anglia are among 200 people who had to be rescued after being trapped by snow on roads, in northern Spain.
Angela and Charles Pugh are part of a group of about 40 people, from Norfolk and Suffolk, who got stuck on their journey from Santander to Estepona.
Abandoned cars and overturned lorries have piled up on main roads near the northern city of Santander.
The unusually cold temperatures are due to last until next Tuesday.
"Spanish television said this was the worst weather for 25 years and heavy snow had also fallen on the plain," said Mr Pugh.
He praised Spanish police for rescuing them. "They did a great job in very difficult circumstances. The snow had taken everyone by surprise but they responded so well."
The couple brought warm clothes for the sea crossing from Plymouth but were expecting to be wearing T-shirts.
When they arrived on a ferry at Santander on Wednesday morning, they were told that there was "a little snow" on the roads.
The group all started out on the journey to Estepona, south of Marbella but as they climbed up into the mountains, the conditions quickly worsened.
Mr Pugh and his wife are trapped at an hotel in the village of Reinosa, about 45 miles (70km) south of Santander.
The BBC's Tom Burridge in Madrid says a large area of central Spain has seen an unusually high amount of snowfall in recent days.
Hundreds of cars were stuck for up to 17 hours overnight on roads between Cantabria and the province of Palencia.
Local media report temperatures of -15C (5F) and up 40cm (1.3ft) of snow in the region.