NHS England turn down MPs road trip offer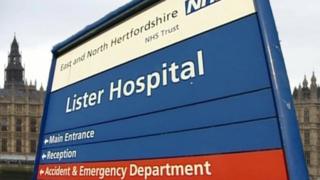 In contemporary films and literature the offer of a road trip is never to be passed up, but it seems officials at NHS England have no wish to go on this voyage of discovery - much to the frustration of the MP for North East Hertfordshire.
Sir Oliver Heald has revealed that he has offered to drive NHS officials between Stevenage and the Mount Vernon hospital in north London on seven different occasions during the day to prove the journey cannot be done in 45 minutes. So far, they've failed to take him up on the offer.
"The AA, the RAC and everyone who does that journey all say that it takes longer than 45 minutes," he told MPs.
"The senior management at the Trust that runs both hospital allows one hour 15 minutes each way for the journey. I have done the journey only once, and it took me two hours in the rush hour."
His colleague the Stevenage MP, Stephen McPartland, seemed to be even more wounded: "NHS England has refused us on several occasions. We keep pushing, so we would be grateful if the Minister could persuade it to accept the offer to embark on our road trip."
Road Trip
The trip means a lot to the MPs because they want to prove that the Mount Vernon hospital in north London is further away from their constituency than NHS England thinks.
At the moment cancer patients in Hertfordshire and parts of Bedfordshire needing radiotherapy have to travel 30 miles or so to Mount Vernon.
But NHS England believes that most of their constituents are able to make the journey within an acceptable 45 minutes.
Sir Oliver claimed its methodology "is clearly flawed" and that was unfair on patients.
"It is a difficult journey, either by car or by the hospital bus service.
"That service takes all day - it collects patients at 7.30am, delivering them back at 4pm. Those long daily journeys are often needed for a three-week period, which is gruelling for patients and their families."
Sir Oliver and Mr McPartland, along with North East Bedfordshire's Alistair Burt, are campaigning for a mobile radiotherapy unit to be based at the Lister Hospital in Stevenage.
They think it's wrong that a county the size of Hertfordshire with 1.2m people does not have any radiotherapy services at all.
Health minister, Jane Ellison, had few words of comfort for them.
She spoke about making sure resources were used wisely, about how it was important to keep expertise all in one place, but it was clear there was one thing that she was quite keen on:
"I am still getting used to the idea of the MPs' road trip, but that certainly sounds like an offer that no one could refuse," she said.
" I will certainly draw NHS England's attention to the force with which the invitation was put in this debate."
Hopefully they'll invite us along.