Morecambe Bay NHS Foundation Trust to cut staff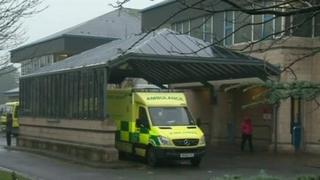 A troubled health trust in Cumbria and Lancashire intends to cut 525 hospital staff and run more services outside of hospitals, a new plan has revealed.
Morecambe Bay NHS Foundation Trust said its strategy would reduce its financial deficit and improve care.
The trust is in special measures and awaiting the outcome of an inquiry into deaths in a maternity unit.
The plan was developed over two years after consulting with experts and patients.
The trust runs Furness General Hospital in Barrow, Lancaster Royal Infirmary and Westmorland General Hospital in Kendal, as well as smaller community hospitals in Morecambe and Ulverston.
The review was carried out by the trust along with local commissioning groups.
'Vague words'
The trust intends to cut 525 hospital staff over the next five years.
But there will be more services delivered outside of hospital, with consultants travelling to patients.
The report proposes moving most planned surgery to two sites rather than three, meaning less would be carried out at Westmorland General Hospital.
The trust wants to keep consultant-led maternity services in both Barrow and Lancaster.
However, this proposal is subject to the outcome of an investigation into deaths of mothers and babies at Furness General Hospital between 2004 and 2013, due to be published later this month.
The trust was put into special measures last year by healthcare regulator Monitor after concerns about quality of care and staffing.
It has a deficit of £26.3m, which it hopes to reduce through its proposals.
Monitor and NHS England must agree to the strategy for it to go ahead.
Tim Farron, Liberal Democrat MP for Westmorland and Lonsdale described the plans as "vague words", which "must now be turned into concrete proposals".
He said he would oppose any move to reduce surgery at Westmorland General Hospital.
No one from the trust was available for comment.