Ex-Cleveland police boss Ron Hogg cleared in benefits probe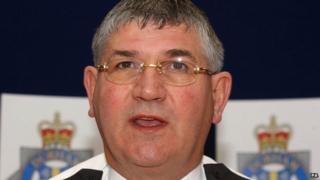 The former deputy chief constable of Cleveland will not face prosecution over claims he accepted benefits he was not entitled to.
The Independent Police Complaints Commission investigated Ron Hogg's time at the Cleveland force and asked prosecutors if charges should follow.
But the Crown Prosecution Service (CPS) said there was "insufficient evidence" to show a crime had been committed.
Mr Hogg, now Durham crime commissioner, said the probe was a "waste of money".
The IPCC investigation focussed on bonuses paid by Cleveland Police to Mr Hogg and a company car he received when he retired from his post as deputy chief constable, in 2008.
It then asked the CPS to consider whether an offence of misconduct in a public office had been committed.
'Specialist prosecutor'
The CPS said the bonuses he received had been approved by the then chief constable Sean Price, as a reward for good performance.
A spokesman added: "The matter has been considered by a specialist prosecutor within the CPS special crime division who, for the sake of completeness, also considered the Fraud Act.
"Having considered the evidence in accordance with the Code for Crown Prosecutors, we have concluded there is insufficient evidence to show any crime has been committed and we have advised no further action be taken."
Mr Hogg, who was elected as Durham's police and crime commissioner in 2012, said: "This matter should never have been referred to the CPS.
"I am pleased at the announcement but disappointed it should have got this far.
"The IPCC should not have been spending valuable taxpayers' resources on something like this."
An IPCC spokesman said: "The IPCC liaised with the Crown Prosecution Service throughout the investigation into the Police and Crime Commissioner for Durham and has been informed of its decision.
"Our investigation report will now be sent to the Durham Police and Crime Panel before it is published on the IPCC website."