Five drivers caught speeding at over 140mph in 2014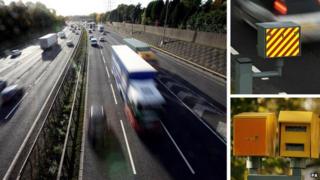 The two fastest drivers caught by speed cameras in England and Wales in 2014 were both recorded doing 146mph.
Both were caught on the M25 in Kent, near Westerham and at Swanley.
The Institute of Advanced Motorists (IAM) said three other drivers were filmed doing 140mph or more in 2014.
One reached 145mph on the M6 Toll road, another hit 141mph on the A1 at Great Ponton, in Lincolnshire and a third was recorded doing 140mph on the A5, near Crick, in Northamptonshire.
Paul Witters, from motoring organisation the AA, said: "We need to find out what happened to these people, as a message to others.
"The big question is 'what happened to the offenders?'. We would like to know if they were caught and prosecuted.
"It's important as a message to others who might consider this, that it probably ended in a driving ban and perhaps a jail sentence."
The worst speeding drivers in 2014
146mph Twice on the M25 in Kent at Westerham and Swanley (70mph limit)

145mph M6 Toll in Staffordshire (70mph limit)

141mph A1 in Great Ponton, Lincolnshire (70mph limit)

128mph A22 in East Grinstead, West Sussex (30mph limit)

119mph M1 in Swinford, Leicestershire (50mph limit)
PA
Mr Witters said the figures demonstrated the need for so-called "stealth cameras" on the smart motorway section of the M25 in Kent.
"The research is good in pointing out these people do exist, so you need to be aware of your own safety, in case you break down for example."
Of the 36 police forces in England and Wales who responded to the FOI request from the IAM, all but six had recorded motorists driving at more than 110mph, during 2014.
In East Grinstead, West Sussex, a driver was caught on camera doing 128mph in a 30mph zone.
The fastest driver in London was recorded at 123mph in a 30mph zone by the Metropolitan Police.
And in Surrey a driver was caught doing 127mph on the A3 at Burntcommon.
Sarah Sillars, chief executive of the IAM, said: "At speeds of 140mph, an individual is travelling at nearly two-and-a-half miles a minute.
"At that speed, it is simply impossible to react to anything that might happen in front of you."
A Kent Police spokesman said: "Educating drivers continues to be fundamental in our efforts to reduce the number of deaths and serious injuries on Kent's roads.
"Driving at an inappropriate speed can sometimes be the difference between getting home and ending up in a hospital, prison cell or even worse."