Former head Jack Mount in court over abuse charges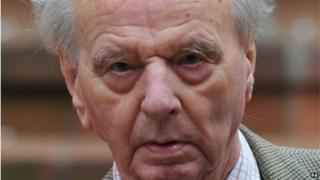 A 95-year-old former head teacher facing 50 charges of sex attacks on 17 children has appeared in court.
Jack Mount, who lives in South Molton, Devon, has previously pleaded not guilty to the offences, which are alleged to have taken place in Shropshire between 1954 and 1979.
Judge Francis Gilbert QC at Exeter Crown Court ruled that the trial should take place in Bristol in January 2016.
He said this was because it could not be heard in Devon until May 2016.
The case has been transferred to Exeter from Birmingham Crown Court, where Mr Mount appeared for the first time last month.
The prosecution has indicated it would like to have the case heard in Birmingham as that could happen in September of this year.
A final decision on the venue has not yet been agreed. Mr Mount did not speak during the 25-minute hearing.
Mr Mount is one of the oldest defendants ever to face trial in Britain and is in poor health and suffering from Parkinson's disease.
Judge Gilbert adjourned the case and bailed Mr Mount to the date of his trial.