Horse called Brian could keep name after public outcry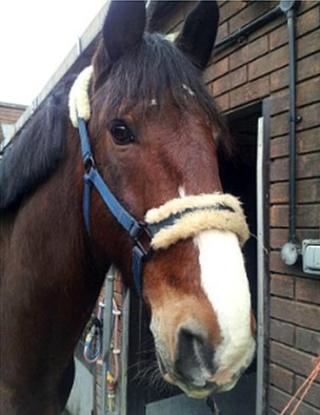 A horse named Brian may keep his name if he passes police training after a public "outcry".
Men named Brian expressed "outrage" that police might change the horse's name to something more "god-like, such as Odin, Thor or Hercules".
Thames Valley Police is reconsidering and said: "Following a public outcry, it looks like Brian may keep his name."
The six-year-old horse must pass six weeks of training to be bought and become part of the mounted section.
'Victory for Brians'
People took to social media to show their support for the horse after it emerged police policy was to change horses' names when they were bought by the force.
Brian Belo, the winner of Big Brother series eight, told the BBC: "This is a victory for Brians everywhere.
"It's a solid name and a strong name. It's an old name too, my mate's grandpa is called Brian.
"I think it's a marvellous name for a horse, it's a friendly name, you would want to be kept safe by a Brian."
He also said he knew of a goldfish that was named Brian after him and numerous dogs.
'Life of Brian'
Brian Poulson, from Bracknell in Berkshire, said he was "appalled".
"There is no way they should be changing the name, every horse should be called Brian!"
The horse, thought to be a Shire/Fresian cross, will be given progressively harder tests and challenges.
These will include going out on patrol in town centres, crossing bridges and going through underpasses.
---
Other horses' names changed by Thames Valley Police
Sonic became Pagan
Red became Trojan
Mary became Luna
Source: Thames Valley Police
---
Carl Broadis said on Facebook: "Keep the name... and start a blog about his adventures... Life of Brian."
Brian Lewis from Ascot said: "I think it's outrageous. Brian is a good name for a horse."
And Vicky Lees on Facebook said: "Keep it, brilliant name. It will make people smile when they are told his name."
The police said a decision would be made in roughly six weeks if Brian passes his training.