Norfolk and Suffolk Foundation Trust: Woman died after NHS 'failures'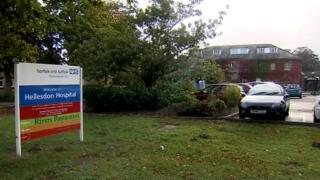 Failures in care by an NHS trust contributed to the death of a woman who killed herself at a mental health unit, an inquest jury has found.
Kylie Payne, 23, who was originally from Wellingborough, Northamptonshire, died at the Meadowlands, Thorpe St Andrew, Norfolk, on 7 February 2012.
The jury found failure to keep her under observation was a factor in her death.
The mental health trust for Norfolk accepted failings on its part.
The inquest heard Ms Payne had been admitted to the mixed ward in 2011 with mental health problems.
On Boxing Day she alleged she had been raped by a male patient from the ward.
The police said there was not enough evidence to pass to the Crown Prosecution Service.
The jury heard one member of staff had been given a suicide note a day before Ms Payne's death and the number of observations were increased to six per hour.
However, two nursing staff at the unit, run by the Norfolk and Suffolk Foundation Trust (NSFT), told the hearing they were unaware of this and had continued observing just four times per hour.
'Tragic death'
The jury found the failure to monitor Ms Payne between 20:00 and 20:20 GMT contributed to Ms Payne taking her life.
In a statement issued by the family's solicitor Zak Golombeck, Ms Payne's mother Sheila said she was pleased action had been taken by the NSFT following its own inquiry into the case, including the abolition of mixed wards.
"The family hopes that the concerns raised will lead to better care for vulnerable patients like Kylie," said the statement.
NSFT director of nursing Jane Sayer said: "Kylie's death was a tragedy for all concerned and we fully accept there were failings on our part.
"Following Kylie's death in 2012 we undertook a serious incident investigation, commissioned an external review of the service, and implemented the recommendations made."
One measure taken was to close of Meadowlands in October 2013 as it was "deemed no longer fit for purpose" .