Hadrian's Wall given Mandarin makeover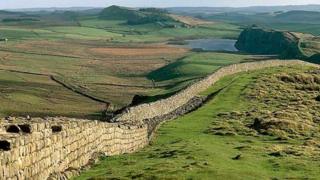 A landmark tourist attraction has been given a Mandarin makeover in a bid to attract more Chinese visitors.
Hadrian's Wall was constructed in Roman times and stretches between Tyneside and Bowness on Solway in Cumbria.
As part of a tourism drive VisitBritain came up with three naming suggestions, which were put to the vote in China.
The winning entry was 永恒之脊, which translates as "Wall of Eternity", and a sign welcoming people in Mandarin has been unveiled at Housesteads Fort.
The other entries translated as "Great Wall of Britain" and "Ancient Wall with Everlasting Charm".
Liz Page, of English Heritage, said the winning name was "a beautiful description which does justice to one of England's most important historic landmarks".
At 73 miles (117 km) long, Hadrian's Wall is dwarfed by the Great Wall of China's 5,476 miles (8,812km). However, the commonly-held view that the structure in China can be seen from space is merely a myth.